Q: How do I upgrade from DVD Snap 2 to DVD Snap 3?
DVD Snap 3 is totally free for all previous customers of DVD Snap – you don't have to spend $14.95 to purchase
an upgrade.
Due to a new license system, old activation keys can not be used to register DVD Snap 3. To get your new license key for free, please follow the steps below:
Send us an email containing the receipt (from either Paddle, Kagi or a promotion) for DVD Snap 2. Based on your purchase information, we create a new DVD Snap 3 license and send you the license details.


Download DVD Snap 3 here.


Extract the downloaded zip and launch the application by double-clicking its icon.


Enter your name, copy your license key and paste it into the associated text field.


Click 'Register' to activate your copy of DVD Snap 3.


Enjoy.
If you like the all new DVD Snap 3 and have a minute to spare, you could do us a real favor by writing a short review or comment on MacUpdate.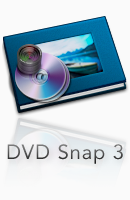 Release Details
latest version: 3.2.1 (8943)
released: Dec 5, 2016

Contact
Welcome to our support page!
Please select one of our product icons to view detailed information. If your question or request is not covered in our FAQs, please feel free to contact us via email.
Thank you!